Reedys' Air Conditioning & Heating Employees in N.C.
Serving Winston-Salem and the surrounding North Carolina Triad for 42 years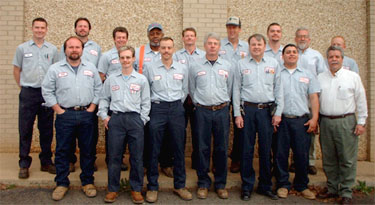 At Reedys ' Air Conditioning & Heating, we have some of the most experienced employees in the Triad. You can count on our technicians to be factory-trained, highly qualified, helpful and courteous at all times.
Dean Reedy, president and owner
Dean Reedy, together with his brother Ray, opened the doors of Reedys' Air Conditioning and Heating Service, Inc. in 1971. Mr. Reedy has extensive experience in every facet of the industry. He has hands on involvement with the day-to-day operations and engineering of every system installed by Reedys. This ensures that customers get the best value for their dollars.

Carrie, service coordinator & customer care manager
Carrie has been with Reedys' for over 20 years. She schedules and dispatches all service calls, ensuring that customers receive prompt and professional service. Carrie is available for any questions regarding service, parts and repair or preventive maintenance contracts.
Amy, service assistant
Amy has been with Reedys' for over 16 years. She keeps contract customer files up to date and sends renewals out ensuring that customers receive prompt and professional service. Amy also sends out service invoices.
Sherry, office manager
Sherry has been with Reedys' for over 29 years. Sherry's long-term experience with Reedys' makes her an expert in customer service. She greets all callers and promptly routes questions or requests to the employee who can best meet each customer's needs.
Jo Ann, secretary
Joann has been with Reedys' for over 15 years. She is responsible for purchasing major equipment and material, as well as managing inventory and job costing. Joann also enjoys answering the phone and assisting Reedys' customers.
David, residential sales estimator
David has over 2 years of residential sales experience.
You can email David at david@reedysac.com.
Rick, commercial sales estimator
Rick has over 30 years of commercial sales experience.
You can email Rick at rick@reedysac.com.
Dana, production manager
With a background in service crew management since 1980, Dana joined Reedys' six years ago. He schedules and manages installation crews, orders equipment, and sees jobs through to completion. Dana is also responsible for follow-up in customer satisfaction.
Reedys ' is one of the most trusted air conditioning and heating companies in the Piedmont Triad. This trust is built on the expertise and integrity of founder Dean Reedy and the experienced and dedicated staff he has developed. Contact us to find out how we can put our decades of experience to work for you!