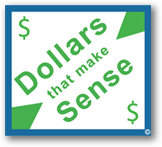 Invest in Energy Efficiency for your N.C. Home or Business
Serving Winston-Salem and the surrounding North Carolina Triad for 42 years
Save money with an energy-efficient heating and cooling system
What are Dollars that Make Sense? It's our way of emphasizing the value of the high efficiency heat pumps that are available today. When you purchase a new energy efficient heating and air conditioning system, you are making an investment. One that will pay off in reduced utility bills for years to come.
We are "The Energy Professionals"
Reedys' has developed a reputation as "The Energy Professionals" in the local area. This is because we can explain how a correctly engineered and installed system can cut your heating and cooling operating cost by 50% or more. We can also show you how to reduce your heating and cooling requirements, increase your comfort, extend the life of your furnishings and have a healthier indoor environment. You can achieve all this through energy efficiency, plus reduce your operating costs.
Consult with us before purchasing your next energy efficient heating system and we can help you spend your hard-earned dollars in a way that makes sense: By investing in energy efficiency!
Energy efficiency performance guarantee
When you purchase a new energy efficient heating system from us you will receive:
Reedys' exclusive Performance Guarantee
Reedys' next-season service agreement FREE!
As The Energy Professionals, at Reedys' we specialize in the consultation and installation of a new energy-efficient heating system for homes, businesses or commercial properties. Contact us to find out how we can put our decades of energy savings experience to work for you!